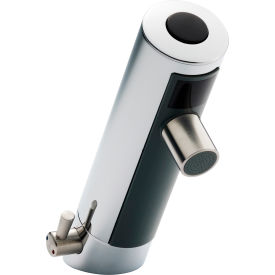 Sensor Operated Single Hole Faucets
Sensor Operated Single Hole Deck Mounted Faucets Provide Touchless Washing Stations For Compatible Bathroom Applications.

Sensor operated single hole deck mounted faucets are suitable for home builders, contractors, bathroom remodelers, and more. Various recognized brands offer a wide selection of hands-free operation in commercial or residential kitchens or lavatories. Available Styles are Faucet With Mixing Valve, Below Deck Mixing Valve, Gooseneck Sensor Faucet, Mixing Tee, Faucet Only, and more. Available Mounts are Deck or Wall depending on the model. Select variations of Faucet Only and Below Deck Mixing Valve styles are designed for installation without or with deck plate. Each unit is made of solid brass or chrome, construction with corrosion resistant Brushed Chrome, Cast Brass, Polished Chrome and more finishes for long lasting durability and dependability. Dimensions and additional specifications vary per model.