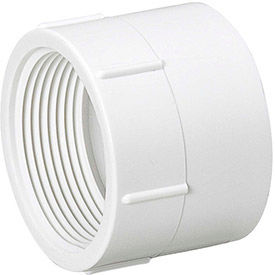 PVC & ABS Adapter Fittings
PVC And ABS Adapter Fittings Provide Rigid, High Strength Connections Between Standard And Threaded Pipe.

PVC and ABS Adapter Fittings feature durable thermoplastic construction that is lightweight, safe to handle and easy to install. Plumbing fittings are manufactured with uniform interior and exterior walls to improve joint strength and reliability. Plastic adapters are joined by threading or solvent cementing for fast installation. Fittings are Adapter Bushing, Adapter Coupling, Cleanout Adapter, Female Adapter, Female Trap Adapter, Hub Adapter, Male Adapter, No Adapter, Spigot Adapter, Swivel Tray Plug Adapter, Trap Adapter and Tray Plug Adapter. Couplings meet NSF 14 and ASTM standards. Size and package quantity vary by model.