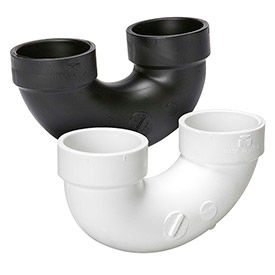 PVC & ABS Return Bends
PVC And ABS Return Bends Allow For An 180 Degree Change In Flow Direction For Residential And Commercial Drain, Waste And Vent Systems.

Return bends are solidly constructed of either PVC or ABS material that is lightweight, safe to handle and easy to install. Smooth interior side walls permit unobstructed water flow through return bends and pipelines. PVC and ABS pipe fittings meets ASTM and NSF standards for use in drinking water applications. Sizes range from 1-1/2 to 4 inches.