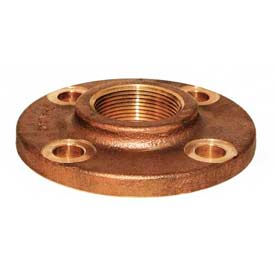 Trenton Pipe Companion Flanges
Trenton Pipe Companion Flanges Are Used For Potable Water And Other Plumbing And Pipe Fitting Applications.

Trenton Pipe Companion Flanges are made of solid Lead-Free Cast Bronze for long lasting durability and dependability. Lead-free characteristic makes them used for use with potable water as well as all other plumbing and pipe fitting applications. Class 125 STM B-584. Monitored for strict compliance with applicable standards and specifications and made by ISO 9000 Certified manufacturing facility. Domestic and Imported style flanges with FNPT connections are available in 1/2, 3/4, 1, 1-1/4, 1-1/2, 2, 2-1/2, 3 and 4 inch sizes and selected 5, 8, 10, 15 or 25 package quantities.