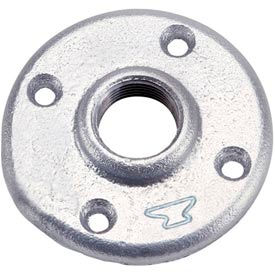 Anvil Galvanized Floor Flanges
Galvanized Floor Flanges Are Used For A Wide Variety Of Indoor Or Outdoor Railing, Piping And Plumbing Applications.

Galvanized Floor Flanges are made of solid Galvanized Iron for long lasting durability and dependability. For use in securely holding pipes in place. Rust and corrosion resistant properties make them used for a wide variety of indoor or outdoor railing, piping or plumbing applications. 300 PSI @ 150°. Lead-free compliant. Available in 1/4, 3/8, 1/2, 3/4, 1, 1-1/4, 1-1/2 and 2 inch diameter sizes.