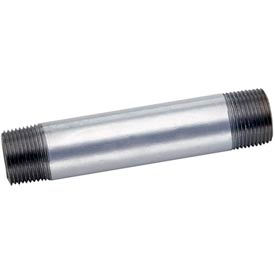 Anvil Galvanized Pipe Nipples
Galvanized Pipe Nipples Are Used For A Wide Variety Of Indoor Or Outdoor Railing, Piping And Plumbing Applications.

Galvanized Pipe Nipples are made of solid Galvanized Steel for long lasting durability and dependability. Used as extension for connecting two different pipes together. Rust and corrosion resistant properties make them used for a wide variety of indoor or outdoor railing, piping or plumbing applications. Available in wide selection CW and ERW type units of various diameters and lengths to meet specific job requirements.