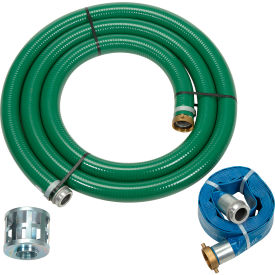 Water & Trash Pump Hose Kits
Water and Trash Pump Hose Kits Are Purposed For Pumping Excavations and Slurries.

Water and trash pump hose kits are built with flexible and abrasion resistant PVC helix for long lasting durability. Smooth bore design eliminates build up and allows for maximum flow. Durable aluminum male x female short shank couplings form a quick and reliable seal. Plated steel square hole strainer protects pump from larger debris while allowing smaller solids to pass through. PVC discharge hose tube/cover reinforced with 3-ply polyester yarns extruded simultaneously to obtain maximum bonding. Available in diameters 1½"-4". Additional specifications vary per model.