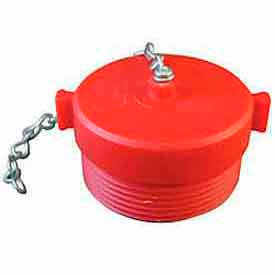 Fire Hose Caps & Plugs
Fire Hose Caps & Plugs Support Plumbing Accessories and Designed for use With Fire Department and Industrial Fire Hoses.

These caps are made of aluminum, brass or plastic for long lasting durability and strength. Hose fittings provide protection from debris and hold back water by capping hoses, hydrants and valve fittings when not in use. Breakable caps are designed for use in place of plugs where pilferage is a problem. Pin lug and rocker lug wrenching feature available on some models. Caps include gasket and chain. Available connection types are Female and Storz. Connection sizes are 1-1/2, 2-1/2, 4, 4-1/2, and 5 inches. Color finishes are Black/Silver, Brass, and Red.