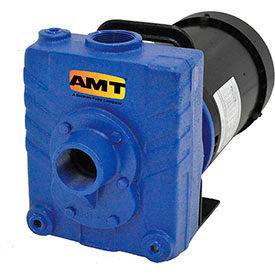 AMT Centrifugal Pumps
AMT Centrifugal Pumps Are Designed to Transfer Water For Commercial, Industrial, General Service, and Other Related Applications.

These centrifugal pumps support multiple tasks including water circulation, chemical processing, liquid transfer, heating and cooling, and more. The pumps are made of multiple materials including bronze, stainless steel, and cast iron for lasting dependability. The self-cleaning impeller prevents clogging and handles solids up to 3/8" in diameter. The pull-from-rear design allows convenient servicing without pipe disturbance. Units are not self-priming and require flooded/positive suction pressure. Types and dimensions vary per model.