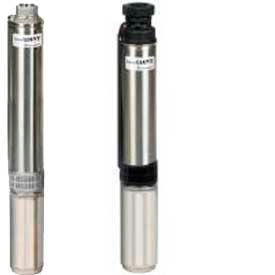 Submersible Deep Well Pumps
Submersible Deep Well Pumps Are Used For New Installs And Replacement Applications Where Water Must Be Transferred Under Pressure From Wells, Cisterns, Ponds, Lakes And Streams.

Submersible Deep Well Pumps have a ceramic bearing sleeve for long lasting durability. A stainless steel up-thrust washer prevents excessive wear in severe applications and a built-in Flomatic® check valve keeps water in the system at all times. Features a Celcon® disk for close tolerances and increased performance. The hex rubber bearing has an extra large surface that ensures shaft stability, while multiple flow channels keep small particles away from the bearing surfaces. A removable suction screen prevents debris from clogging impellers and provides full-flow performance. Choose from models that handle between 5 - 34.5 Gallons per minute.