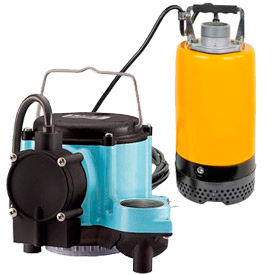 Submersible Sump Pumps, No Solids
Submersible Sump Pumps, No Solids Are Designed to Transfer and Remove Waste Water For Various Applications Including Residential, Commercial, Industrial, and more.

These sump pumps support dewatering, water transfer, wastewater removal, or drainage for dishwashers, wet bars, showers, laundry facilities, and other similar environments. The submersible design is convenient for quiet operation and location proximity. The units are made of multiple materials including aluminum, steel, thermoplastic, or cast iron for strength and durability. The sump pump includes an overload protector improving high-output performance for energy efficiency. Pump types and dimensions vary per model.