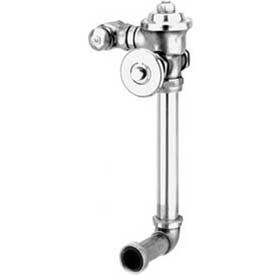 Concealed Flush Valves
Delany Concealed Flush Valves Are Used For Schools, Restaurants, Hospitals And Other Applications Requiring Heavy Use.

Delany Concealed Flush Valves are made of brass for long lasting durability. Features an externally adjustable design for enhanced reliability. Renewable main valve seat for superior performance. Rubberflex push button through wall for ease of use. Kwikfit threaded union tailpiece for increased efficiency. Twin body openings for roughing left or right for added versatility. Vacuum breaker. Manual flush. Finish is Polished Chrome. Available in Toilet or Urinal. Gallons per flush are 1, 1.6, 3.5 or 4.5. Spud sizes are 3/4 or 1-1/2 inch. Rough-in sizes are 13-1/2, 16 or 24 inch.