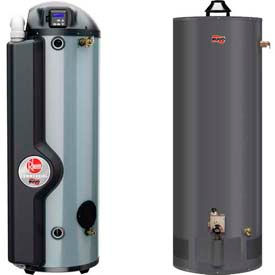 Commercial Water Heaters
Commercial Water Heaters Simplify Installations.

Commercial Water Heaters have a compact size and multiple water connections for ease of use. Short heights and narrow jacket diameters, plus top, front and rear water inlets/outlets provide installation flexibility. The diagnostic system uses glowing red lights to verify system operation sequences. Factory installed brass drain valve allows faster draining. Energy saving ignition ignites only when needed. Commercial or Residential available. Gallon capacities range from 32-130. Other dimensions vary per model.