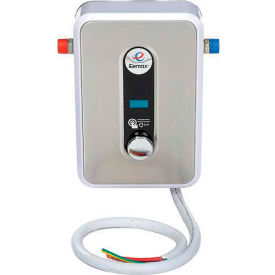 Eemax Home Advantage II Tankless Water Heaters
Eemax Home Advantage II Tankless Water Heaters
Tankless Water Heaters have a 99% thermal energy efficiency. Most Water Heaters with Tank have only a 65% efficiency, if not less.
Eemax Tankless Water Heaters are up to 90% smaller than a water heater tank,
letting you put them almost anywhere.
Tankless Water Heaters last longer than any other water heater, lasting over 20 years while other heaters last between 15-20 years.
Home Advantage Tankless Water Heaters are ideal for plumbing professionals, contractors and homeowners alike.
Home Advantage Heaters provide instant and endless supply of hot water.
Use for single point of use applications or supply hot water to multiple fixtures. These compact units feature a digital temperature control in increments of 1°F ranging from 80°F to 140°F. Copper heating elements with brass termination to increase durability; threaded for easy replacement.
All Units are 240 Volts.
GPM output varies per unit and is based on inlet water temperature depending on your location within the USA. Units range from 0.8 GPM to 8.7GPM. They also range from powering 1 Hand Sink to powering a combination of 5 Showers and 1 Hand Sink.
Refer to Sizing Guide below to determine the correct Home Advantage II unit for your specific application.
Click Here for Home Advantage II Sizing Guide