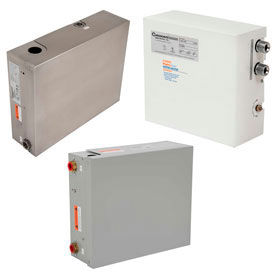 Chronomite Safety Electric Tankless Water Heaters
Chronomite Safety Electric Tankless Water Heaters Provide Tempered Water For Various Environments Including, Commercial, Industrial, Healthcare, and more.
These chronomite safety electric tankless water heaters provide reliable point-of-use hot water for emergency eye and facewash applications. The heaters use a digital microprocessor that efficiently controls the water temperature and response times for temperature changes. The water heaters don't require pressure or temperature relief valves saving time and money on installation. The heavy duty, stainless steel housing is designed to protect the unit internals for lasting reliability and service. The element assembly is made of Celcon plastic and the heating coils are nichrome. ANSI approved.
Digital microprocessor
No pressure or temperature relief valves required
Stainless steel housing
Phases are 1 and 3
Voltages range from 208 to 600
Amps range from 24 to 208
Wattages range from 10000 to 154000