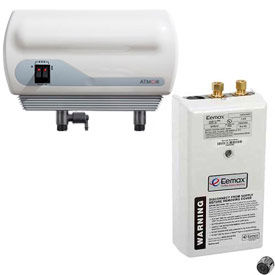 Point Of Use Tankless Water Heaters
Point Of Use Tankless Water Heaters Allow on Demand Hot Water while Cutting Energy Waste.

Point Of Use Electric Tankless Water Heaters provide a constant, continuous flow of hot water. Using a flow switch which activates heater only on demand, tankless water heaters allow for constant temperature control. Only one cold water line needs to be run as tankless water heaters warm the water where the unit is mounted on the bathroom wall. Compact unit is easily installed under a sink or on the wall. Flow restricting aerator supplied. Flow rates range from 0.2 to 0.95. Suitable for residential and commercial applications including hand washing sinks, kitchen/bar and utility sinks, showers and other point of use applications. Other specifications vary per model.