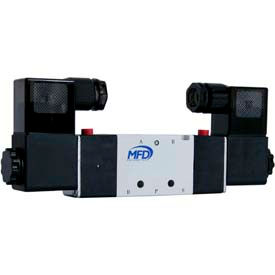 4-Way Solenoid Actuated Valves
4-Way Solenoid Actuated Valves Allow Ergonomic Valve Control In Individual Valve or Multiple Valve Applications.

These solenoid valves provide 5-port connections and stackable with normally-closed spring return operation. Valves may be used in individual valve applications, or multiple valves may be assembled together on a manifold to share supply air and simplify the piping. Valves are equipped with a turning manual override. Valves are available in a variety of sizes and styles.