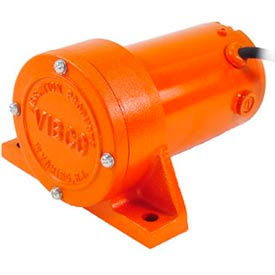 Vibco Adjustable Speed And Force Electric Vibrators
Vibco Adjustable Speed And Force Electric Vibrators Are Used For Indoor Or Outdoor Use For Test Tables, Screening, Packaging, Bins, Chutes And More.

Adjustable speed and force electric vibrators may be force and speed adjusted while running. Vibrator is noiseless to meet even the most stringent anti-noise pollution requirements. Permanent magnet DC motor and SCR control provide overload protection and easy speed dial control. All SCR model vibrators plug directly into a standard 115-volt AC current with no special wiring or circuitry. Complete enclosure allows vibrator to be used indoors or outdoors in dusty or wet locations. Easily adjustable eccentric settings give additional adjustability. SCR is continuous duty rated even at maximum eccentric setting. Vibrators are available in a variety of sizes and configurations to suit various needs.