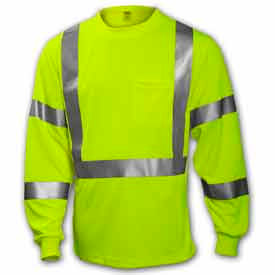 ANSI Class 3 - Hi-Visibility Long Sleeve Shirts
ANSI Class 3 Long Sleeve T-Shirts Ensure Temperature Control For Workers at Construction Sites, Railroads, Warehouses, and Other Related Environments.

These long sleeve t-shirts are made of cotton and polyester for lasting strength and durability. The wicking design draws perspiration to the outside of the shirt for added comfort. The shirts feature reflective stripes for added visibility in low light or dark environments. Available styles are Birdseye Long Sleeve T-Shirt With Black Bottom, Class 3 High Visibility Long Sleeve T-Shirt, and more. Colors are Fluorescent Yellow, Fluorescent Yellow/Green, Orange, and more. Sizes range from S to 5XL.