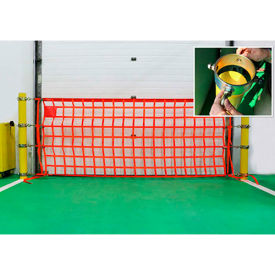 US Netting Bollard Safety Netting
US Netting Bollard Safety Netting

Most warehouses and facilities today have existing bollards made of steel or cement to protect their dock door openings and other areas through the workplace. Space is limited in high traffic dock areas designed with the utmost efficiency. That's where the Bollard Safety Netting Package can be used to section off areas and is perfect for safely protecting machinery, loading docks, and entryways. Safety Rings slide directly onto your existing steel/cement bollards without the need for drilling or extra tools. Rings can have up to 3 anchor points for nets to attach to and come with everything needed to secure an area. You receive 8 Bollard Safety Rings and one Polyester Barrier Net for protecting your loading dock or other facility locations. The package works perfectly for securing an area lined with existing bollards without the need for modification. The net package takes up virtually no space and is easy to install.