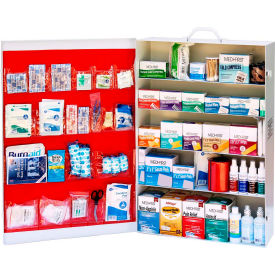 Global First Aid Kits - ANSI Compliant
Global Private Label First Aid Kits Are ANSI 2015 Compliant To Meet Industry Standards For Emergencies And Minor Accidents.

Global Private Label First Aid Kits are made of metal and steel to provide long lasting durability. First Aid Kits can be used for travel, industrial/commercial settings and residential spaces. Kits are encased in cabinet housing to keep contents secure and in place. Available kits include ANSI 2015 2-, 3- and 4-Shelf Cabinet First Aid Kits and ANSI 2015 Compliant First Aid Kit. Kits available for 25, 50, 50-75, 75-100 and 100-150 person count. Available ANSI classes are A and B.