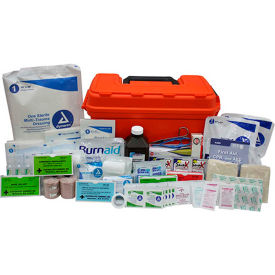 Specialty First Aid Kits
Specialty First Aid Kits Are Designed By Law Enforcement, Offices, Camping, Hiking, Boating and more.

Specialty first aid kits are available in several styles including Captains Marine First Aid Kit, Travel First Aid Kit, Marine First Aid Kit and Specialty First Aid Kit. Kits contain a variety of adhesive strips, alcohol prep pads, antiseptic wipes, aspirin, iodine swabs, ammonia inhalants, cold packs, gauze, sting wipes, burn gel and more. Specialy kit types include Personal Major Bleeding, Heat Stress Responder, Law Enforcement, Construction, Camp/Outdoor, Jump Bag, Hiking Basic, Marine, Trauma, Tactical Field, Marine, School Bus and Coaches Kits. Dimensions and colors vary per kit.