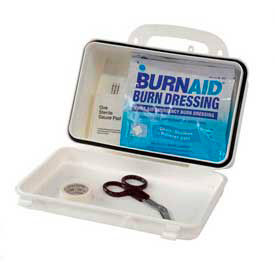 First Aid Burn Care Kits
First Aid Burn Care Kits Are Used For Providing Emergency First Aid And Rescuer Fire Protection.

First Aid Burn Care Kitsare made for lasting durability and dependability in emergency situations. Sterile Burn Sheet is made of non-woven laminated tissue fiber that provides a sterile environment to protect the burn patient from infection. Sheet construction resists tearing and is comfortable to patient contours. Wraps completely around individual for protection against contamination and additional trauma. Water Jel Heat Shield Blankets are one-step systems for Emergency First Aid for burn victims. Blankets flames, puts out smoldering clothes, relieves pain, cools burn and protects against airborne contamination. Gel is water-soluble and can be easily rinsed for further medical treatment. Can also protect rescuers from heat and flames. Available in 36 x 30, 72 x 60 and 96 x 72 inch sizes. Includes carrying canister. Small Burn Kit includes adhesive tape, gauze pads, disposable gloves, scissors and burn aid dressing. Dimensions vary per item.