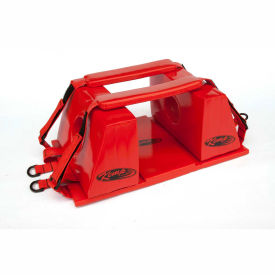 Kemp Rescue Immobilizers
Kemp Rescue Immobilizers Are Used For Applications Including Medical, Emergency Services, First Aid, And More.

Kemp rescue immobilizers are made of high quality materials for long lasting durability and dependability. Immobilizers allow convenient operation and are compatible with most spine boards. Units contain no metal components accommodating X-ray, MRI, or CT scan procedures. Includes two head/chin straps and padded base plate that fastens easily to board. Features side blocks and Velcro closures for user stability. Waterproof construction allows application and location versatility. Easy to clean and disinfect for reuse. Available styles include Head Immobilizer, Leg Immobilizer, Pediatric Headblocks, and Replacement Pillows. Package quantity is 1. Colors are Black, Blue, Orange, Royal Blue, Red, and Yellow. Dimensions vary per model.