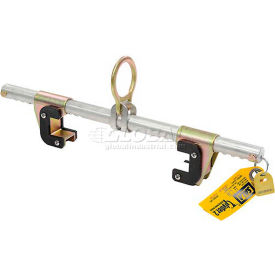 Beam & Steel Anchors
Beam and Steel Anchors Provide Fall Protection for Applications Including Construction, Industrial, Commercial, and more.

Beam and steel anchors include an adjustable sliding anchor for horizontal mobility and stability. Energy absorber lanyard limits fall arrest forces, minimizes fall clearance, and protects structure. Devices withstand substantial forces applied during a fall for unit dependability. Quick and easy installation. Available types include Ace Anchor, Assembly Replacement, Beam Anchor, Beam Trolley, Beam/Steel Anchor, Bolt, Bolt Hold Anchor, Bolt-On Wall Anchor, Concrete Anchor, D-Bolt Anchor, D-Ring Anchor, Drop Through Anchor, Gap Anchor, Grip Anchor, Roof Clamp, Standing Seam Anchor, Swivel Anchor and more. Weight capacities range from 310 - 5000 lbs. depending on the model. Colors are Blue, Bronze, Bronze/Gold, Bronze/Silver, Gold, Gold/Black, Gray, Red/Blue/Gray, and more. Dimensions vary per model.