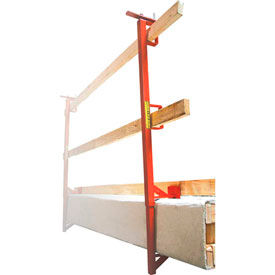 Guardian Fall Clamp Guard Rail Systems
Guardian Fall Clamp Guard Rail Systems Provide Fall Protection For Applications Including Construction, Industrial, Commercial, And More.

Guardian fall clamp guard rail systems are made of powder coated steel for long lasting durability and corrosion resistance. Systems provide personnel and content protection from fall and spillage hazards. Units allow convenient single user installation without required ladders or scaffolding. Types are C-Slab Grabber, Guardrail, and Guardrail Post. Colors are Red and Yellow. OSHA approved. Dimensions vary per model.