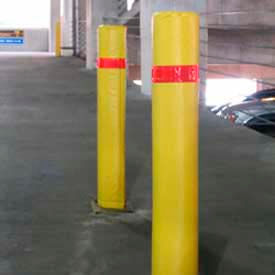 Bollard Guard Padded Covers
Bollard Guard Padded Cover Is Used For Protecting Bollards, Posts Or Poles Against Costly Damage To Vehicles Or Possible Pedestrian Mishaps.

Bollard Guard Padded Cover is manufactured from sturdy nylon material for long lasting durability and dependability. Easily slips over bollards or posts to skip painting or scraping while offering protection against vehicular damage or pedestrian mishaps. Attractive, cushioned sleeve is used for use in parking garages, banks, restaurants, gas stations, warehouses, retail stores and drive-thru locations. 4-1/2 inch diameter, 44 inch height cover is bright Yellow in color with red reflective tape for added visibility.