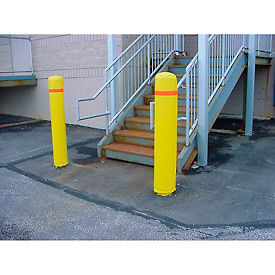 Soft Polyethelene Post Cover
Soft Bollard Covers Easily Strap Over Existing Posts & Bollards To Provide Increased Protection And Improved Facility Appearance.

Made of 10 oz. polyethelene fabric that is rip-proof, waterproof, fade resistant and mold proof. Core is made of 1/2" thick loose cell foam. Soft bollard cover includes 2"W reflective stripe for high visibility. Utilizes Self Adhesive Strapss for easy attachment. Measures 7"W. Available in 40"H or 50"H. 1 Year Limited Warranty.