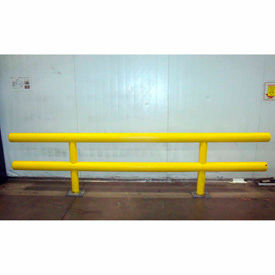 Ideal Shield® Guardrails
Ideal Shield® Guardrails Are Maintenance Free And Protect Walls, Machinery And Personnel From Dangerous Impact.

Ideal Shield® Guardrails are made of 4'' schedule 40 steel pipe and 2-1/2'' schedule 80 steel pipe to provide long lasting durability. HDPE plastic sleeves provides added strength. Available types are Heavy Duty and Standard. Styles include One-Line (Single Rail) and Two-Line (Double Rail.) Lengths range from 48" - 144". Heights range from 14-3/4" - 42". Color finish is Yellow. No maintenance or painting required. Fully assembled.