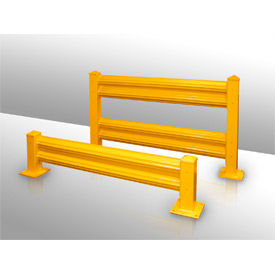 Hallowell Guard Rails
Hallowell Guard Rails Protect Buildings, Personnel, Vital Assets And More From Loaded Forklifts.

Hallowell Guard Rails are made of heavy gauge steel for long lasting durability. Integrated fastening system incorporates fastening hardware into the column design to remove 'stripped' out connections. Available types are Single Rail Column, Double Rail Column, Rail, and Lift-Out Bracket. Lift-Out Brackets are optional and are used for temporary removal of rails for easy access for fork lifts. Rails are available in 3 to 10 ft. lengths. Color is Safety Yellow. Dimensions vary per model.