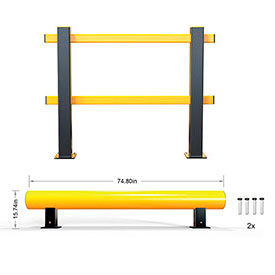 A-Safe Guardrails
A-Safe Guardrails

This modular barrier system is highly visible to assist vehicle operators and can be used in conjunction with other A-SAFE products such as Swing Gates, Slide Gates, Sign Boards and Kerb Barriers. Non-scratch, non-corrosive and with no need for repainting, A-SAFE barriers create huge maintenance savings and offer a permanent return on investment. Polypropylene construction. Yellow. Includes anchors.

A-SAFE Pedestrian Guardrail will guide pedestrians and vehicles around a facility and offer segregation between vehicle routes and pedestrian walkways.

A-Safe Traffic Guardrailwill protect against impacts from workplace vehicles, absorbing the forces and reforming to its original shape.