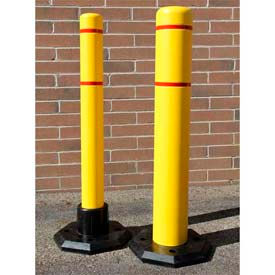 BollardGard Anywhere™ Portable Bollards
Innoplast BollardGard Portable Bollards Are Used For Directing Traffic Or Marking Temporary Hazards, Reserved Parking Spots, Pedestrian Walkways And More.

Innoplast BollardGard Anywhere Portable Bollards are solidly made for long lasting durability and dependability. 25 lb. heavy duty recycled rubber molded base is used for temporary or permanent applications. BollardGard covers quickly and easily attaches to the base creating a stand alone unit with or without permanent lag bolts. 52 inch height units with choice of Reflective or Non-Reflective 1 inch tape. BollardGard available in 4 or 7 inch diameters and wide selection of White, Yellow, Gray, Light Gray, Orange, Red, Tan, Blue, Brown, Green or Black colors.

BollardGard Anywhere Portable Boards are strictly visual aids. Not designed to stop vehicle progress. Not suitable replacement for permanent bollard installations.