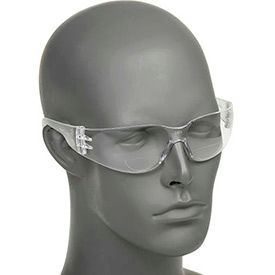 ERB - Safety Reader Eyewear
ERB - Safety Reader Eyewear Provides Eye Protection for Construction Sites, Manufacturing Plants, Industrial Facilities, and more.

This eyewear offers high impact vision safety and protection for dust, debris, UV rays, and more. The polycarbonate construction provides impact resistance for lasting durability. Units enhance vision to reduce eyestrain and minimize headaches. Rubber nose bridge improves user comfort and frame support. Includes anti-scratch and hard-coat features. Diopter strengths range from +1 to +2.5. Package quantities are 1 and 12. Lens colors are Clear and Smoke. Frame colors are Clear and Gray. Dimensions vary per model.