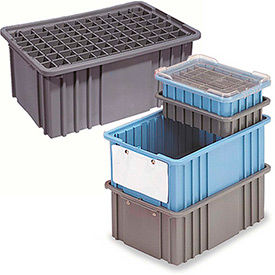 LewisBins™ Divider Boxes
LewisBins™ Divider Box Help Store And Organize Various Items By Creating Separated Compartments Within The Container.

Divider Boxes can be divided into compartment using molded-in slots on 1-1/4" centers that accept Long and Short Dividers. Manufactured in high-density polyethylene, these dividable containers are ideal for use in commercial, industrial, electronics and healthcare markets for storage, assembly, fabrication and distribution applications. Strong stacking ridge and innovative ribbed walls ensure high performance. Load capacity of 40 lbs. per container. Vertical Box Dividers subdivide LEWISBins+ divider boxes to increase part protection and prevent part migration. Vertical dividers help to maximize efficiency and flexibility. Durable Clear Lids with molded-in tabs on one side that hook under container lip to guide the cover into place. Ensure easy visual inspection of contents. Snap-On Cardholders are envelope style with two snaps. All have a clear window with solid back. The Cardholders attach securely to any size conductive divider box allowing easy identification.