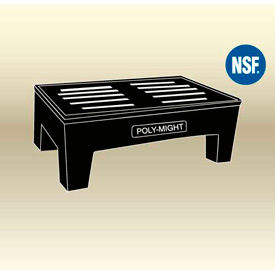 MasonWays™ Dunnage Racks
MasonWays™ Dunnage Racks Are Designed For Spot And Aisle Displays In Retail Storage Applications.

MasonWays™ Dunnage Racks feature polyethylene construction for long lasting durability and dependability. Racks keep merchandise off the floor to organize product and reduce clutter. Some models are pallet jack/forkliftable for added maneuverability. Anti-microbial protection available on some models for greater sanitary use. Available weight capacities are 750, 1000, 1200, 1500, 1750, 2000, 2500, and 3000 lbs. Color finish is Black. Includes 10 year limited warranty. Dimensions vary per model.