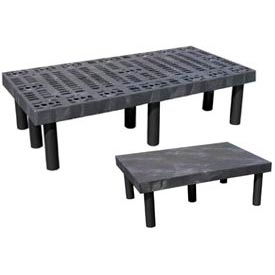 Structural Plastic - Modular Dunnage Racks
Structural Plastic Dunnage Racks Are Waterproof and Resistant To Gas, Solvents and Most Industrial Chemicals.

Structural Plastic - modular dunnage racks endure extreme temperatures and resist corrosion and most industrial chemicals. Black plastic dunnage racks have a strong 2-5/8" thick platform and 2-3/8" posts that form a rigid, tool free assembly. Heavy duty plastic is easy to steam clean and disinfect. Units are ideal for freezer applications and are lightweight for easy transport. 12"H overall. Vented Dunnage Racks provide maximum air ventilation, as well as light and sprinkler penetration. Solid Top Dunnage Racks allow extra capacity. Storage Cubes are made of recycled plastic. These storage blocks can be stacked in multiple configurations to fill tight or unusual spaces. Additional specifications vary per model.