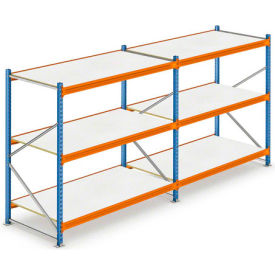 Interlake Mecalux - Bulk Storage Rack Components & Accessories
Interlake Bulk Storage Rack Accessories Used For Warehouse Or Residential Storage.

Bulk storage rack accessoires assemble and reconfigure quickly for fast and flexible storage of hand loaded items. Frames are punched on 2" centers for easy beam adjustment to eliminate down aisle growth as well as wasted spaces. Beams are mounted to frame and held in place with two U Safety Pins providing additional security and stability. Drop-In shelf supports reduce beam quantity, accommodating a variety of product sizes, arrangements and steel, wood or particle board decking. Available styles are Bulk Storage Rack MS Beam, Upright, ZS Beam and Galvanized Metal Shelf. Available colors are Blue, Orange and Galvanized. Dimensions vary per model.

*** UP TO 8,489 LBS. CAPACITY PER RACK!