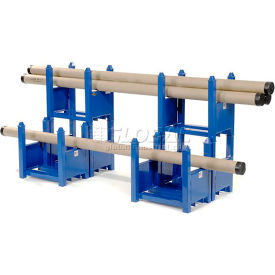 Modular Bar Storage Rack (Stackable)
Modular Bar Storage Racks (Stackable) Provide Flexible Storage for all Types of Materials.

Modular Bar Storage Rack (Stackable) are efficient, low-cost modular bar storage racks that set up easily. Bar storage racks stack up to 5 racks high. These lightweight pipe racks are made with heavy duty welded steel. Modular lumber storage racks provide highly flexible storage for all types of materials. Installations are expandable in width, height and length. Storage racks are easily shifted to meet changing storage requirements. Simply stack to the depth, height and width you require for space-saving economical storage. Dimensions vary.

Please reference dimensions chart when looking at the grid.
Inside Dimensions - Deduct 4". Use two racks to support 8'-10' long bars, three racks for 12'-16' and four for 16'-24' long bars.