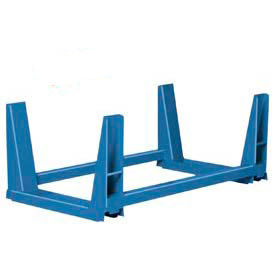 Twin U-Frame Racks (Stackable)
Twin U-Frame Racks Can Be Used In Multiples With Fork Lifts To Provide Length And Tier Height Needed For Storage.

U-rack storage racks are used for storing bars, channels, angles, pipes, lumber and more. Safety U-racks stack up to 4 high for efficient storage. Durable welded, formed steel provides strength for stacking. Made using 2 U-racks connected with steel framing to provide optimum storage. 5,000 lb. capacity. Fully assembled.