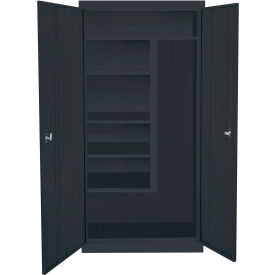 Steel Cabinets USA Janitorial Cabinets
Steel Cabinets USA Janitorial Cabinets Hold and Accept a Variety of Sizeable Equipment For Warehouses, Stockrooms, and more.

Steel cabinets USA janitorial cabinets are designed for equipment organization and storage. Most models feature adjustable shelving to hold smaller or larger items for easy organizing. Two die cast locking handles offer access security. Cabinet design is ideal for elongated equipment such as brooms and mops. Steel construction provides lasting durability and support. Available colors are Black, Gray, and Putty. Cabinets measure 30"W x 18"D x 72"H.