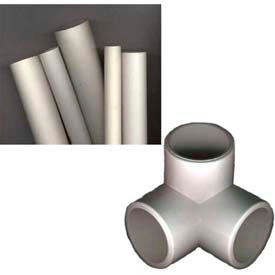 Furniture Grade PVC Pipe & Fittings
Furniture Grade PVC Pipe And Fittings Are Used For Assembly Of Workbenches, Racks, Outdoor Furniture And Other Light Construction Applications.

Furniture Grade PVC Pipe is stronger, more UV resistant and has no markings compared with standard plumbing PVC. White or Green color piping is available in 5 foot lengths and in 1/2, 3/4, 1, 1-1/4, 1-1/2 and 2 inch diameters. Fittings of various types are also available to meet particular requirements, including Cable Clamps, 3 Way L, 4 Way L, 5 Way L, 45° Elbow, 90° Elbow, Coupling, Tee, Clip T, Cross, EMT Snap Cross, Slip Cross, Pipe Stake, Snap Adaptors, Flat Top Cap, Table Cap, Ball Cap, Table Base, Castor and Fishmouth. Snap fittings are designed to be glued but may be dry fit for later disassembly. Easily snap into place for secure couplings and fixtures.