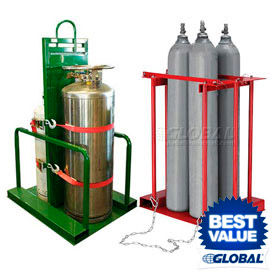 Forkliftable Cylinder Caddy
Forkliftable Cylinder Caddies Are Designed For Safe And Secure Loading And Unloading Of Pressurized Cylinders.

Forkliftable Cylinder Caddies are made of all-welded heavy duty steel for long lasting durability. Features a forkliftable design allowing for easy storage and transport. Fiberglass for added safety on select models. Styles are Mobile or Stationary. Cylinder capacities are 2, 4, 6 or 8. Colors are Black, Green or Red. Dimensions and weight capacities vary per model. Mobile Caddies have hinged retainer bars to secure cylinders in place. Includes 4 inch hard rubber casters(2 swivel) for easy mobility. Holds cylinders up to 9 inches in diameter. 1500 pound capacity.