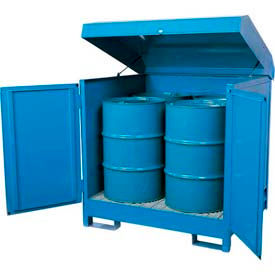 Outdoor Hazmat Drum Storage Stations
Outdoor Hazmat Drum Storage Station Are Used For Safe And Secure Storage And Dispensing Of Hazardous Liquids.

Outdoor Hazmat Drum Storage Units are solidly constructed of steel coated with a durable, corrosion and weather resistant finish for long lasting strength and dependability. Lockable, hinged lid and swing out doors for convenient outdoor storage of hazardous materials. These units are lockable with a built in lock. Sump welds are inspected with a low-viscous test to insure leak tightness. Lid lifts easily and is supported by heavy duty gas cylinders for easy access to tops of drums for filling or dispensing. Passive ventilation is standard. Removable galvanized steel floor grating for easy cleanup. Four-way forkliftable base skid design. 66-Gallon sump volumes meet EPA and UFC requirements. Blue powder coat finish. Available in 2 or 4 Drum storage sizes with 1200 or 2400 lb. load capacity. One Year Limited Warranty.