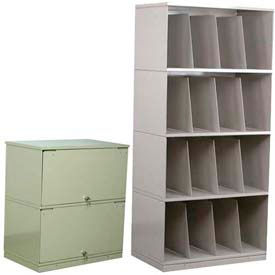 Steel X-Ray Storage Cabinets
Stackbin X-Ray Storage Cabinets Are Built To Securely Hold X-Rays And Other Medical Files

Stackbin Steel X-Ray Storage Cabinets are made using durable steel and come in a 2, 3 or 4 Shelf units. They feature a drop down door that will close off the front of the unit and lock when closed. The door flips up and slides into the shelf above the files inside. Two dividers come with each storage shelf and can be stacked on top of each other without any hardware or tools necessary.