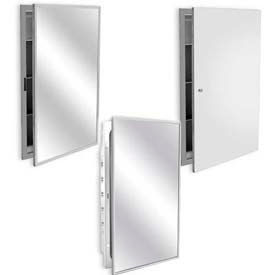 Bathroom Medicine Cabinets
Bathroom Medicine Cabinets Are Used For Residential, Commercial, Institutional Or Industrial Applications.

Bathroom Medicine Cabinets are solidly made for long lasting durability and dependability. Cabinet body is fabricated of 22 gauge stainless steel formed for rigidity. Embossed louvers in body allow shelving to be adjustable. Flange surrounds cabinet body that has 1/4 inch returns to wall. Cabinet back is stainless steel secured to body with multiple welds. Full length, stainless steel piano type hinges. Mirror Door is 1/4 inch thick float plate glass, silver coated and sealed with a uniform coating of electrolytic copper plating. Mirror is guaranteed against silver spoilage for a period of 15 years. Non-absorbent filler behind mirror acts as a shock absorber. 2 adjustable shelves. Unidoor™ Medicine Cabinet models have 18 gauge steel door with satin finish and 3 adjustable shelves. Surface Mounted, Recessed and Semi-Recessed with 2 inch Skirt type cabinets are available in 16 and 18 inch widths, 22, 24, 26 and 30 inch heights and 4-7/8 inch depths. White Enamel Medicine Cabinets that are fabricated of one piece deep drawn steel construction with oven baked enamel finish are also available in Recessed or Surface Mounted types with 22-1/2 or 26-1/8 inch heights.