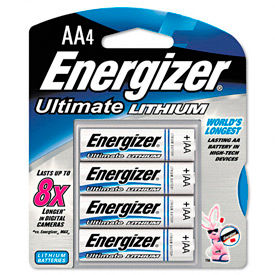 Energizer® Lithium Batteries
Energizer® Lithium Batteries Reliably Power Electronic Gadgets, Flashlights, Medical Devices and Other High End Tools and Instruments.

AA & AAA Ultimate Lithium Batteries last up to 8x longer in digital cameras and weigh 1/3 less than standard alkaline batteries. Performs in extreme temperatures from -40°F to 140°F. Feature 20 year storage life with leak resistant construction for durability. 3V & 6V E2® Batteries are made to deliver long-lasting power to keep up with today's high tech, power-hungry cameras and flash units, even in the most extreme temperatures. Lithium batteries have a shelf life of up to 20 years.