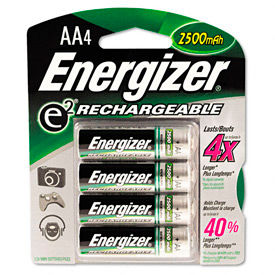 Energizer® Rechargeable Batteries & Chargers
Energizer® Rechargeable Batteries Are Engineered To Work With The Most Advanced, High-Drain Devices.

Used for use with digital cameras, PDAs, hand-held gaming devices, portable CD players and MP3 players. For best results, pair your Energizer® Rechargeable batteries with Energizer® chargers (sold separately). Lasts 4x longer in digital cameras. Able to hold its charge up to six full months and can be charged up to 150 more times.