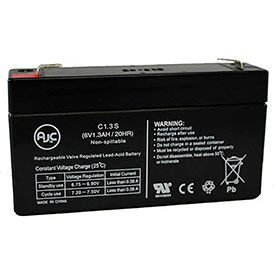 AJC® Brand Replacement Lead Acid Batteries For Quantum
AJC® Brand Batteries Are Replacements For Quantum Sealed Lead Acid Batteries.

AJC brand replacement lead acid batteries for Quantum are made of absorbed glass mat (AGM Battery) technology for long lasting durability and dependability. 6 volt or 12 volt batteries with F1 or NB terminals. Amp range is 1.2Ah to 75Ah. AJC replacement batteries are made for use with Quantum brand products. Please note that existing cabling and hardware must be reused. These are replacement batteries only. These products are not authorized by nor affiliated with Quantum.