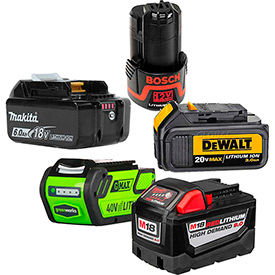 Cordless Power Tool Batteries
Cordless Power Tool Batteries Provide Convenient and Rechargeable Cordless Tool Power for Construction Sites, Contractor Jobs, Automotive Garages, and more.

Cordless Power Tool Batteries fit and connect to compatible power tools to provide consistent power to cordless tools for less interruption on the job. Most batteries are made of Lithium-Ion or NiCd, for lasting durability and safety. Some models do not develop a memory and may be charged at any time regardless of the pack's current charge level. Available types include Power Tool Battery Link, Power Tool Battery Voltage Adapter and more. Batteries are available in Many Voltages. Dimensions and quantities vary per model.