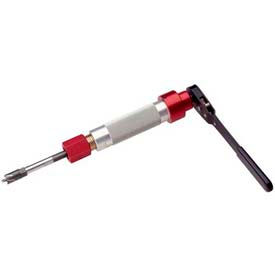 Ridgid® Tapping Tools
The Rigid Model RT1000 Mini Tapping Tool is ideal for branching pressurized water lines. With 1" tapping capacity and the ability to drill into most pipe materials, the lightweight compact and corrosion-resistant design of the RT1000 is the perfect tool for branching pressurized pipe when system shut down is out of the question.

The Rigid Model RT3422 is designed for branching pressurized water, steam and natural gas mains. With up to 2" capacity, corrosion-proof design, ability to handle most types of material and lightweight, the Model RT3422 is the tool to meet your tapping needs.